These grants are expected to facilitate and support basic and applied scientific research for socio economic development of the country while promoting capacity building of S & T personnel. It will also provide assistance to supplement the financial, physical and manpower resources available for scientific research in the scientists' own institutions.
DISCIPLINES:
NSF will be awarding Competitive Research Grants to undertake research in the following disciplines:
Agriculture and Food Science
Indigenous Knowledge
Basic Science
Library & Information Science
Biotechnology
Oceanography & Marine Resources
Engineering Sciences, Architecture & Information Communication Technology
Science Education
Social Sciences
Environment & Biodiversity
Science & Technology Policy Studies
Health Sciences
AIMS:
To encourage researchers to utilize their knowledge for the benefit of the society
To facilitate researchers with postgraduate qualifications to enhance their career prospects
To facilitate science/engineering graduates to pursue postgraduate research degrees
Strengthen the infrastructure facilities for research
WHO CAN APPLY:
The Applicant/Principal Investigator should have a postgraduate research degree (PhD, MPhil) and publications/patents in the relevant area. Applicants with MSc, MD or MS qualifications should have minimum of one year research component in the course and publications/patents in the relevant area. Co-Investigators should have postgraduate qualifications or research experience as evident by publications/patents.
For first time applicants to the NSF, the upper limit of funds will be Rs. 1.5m per project excluding allocations for Research Personnel. The grants duration will be 02 years.
Full time Research Students can be allocated only for Principal Investigators with minimum of two years of postdoctoral research experience.
Full time Research Scientists can be allocated only for Principal Investigators with adequate research experience, as determined by the NSF.
HOW TO APPLY:
Applications are entertained throughout the year and evaluated quarterly.
PERFORMANCE OF THE CRG SCHEME:
The following graph gives an analysis of Competitive Research grants awarded from 2008 – 2017.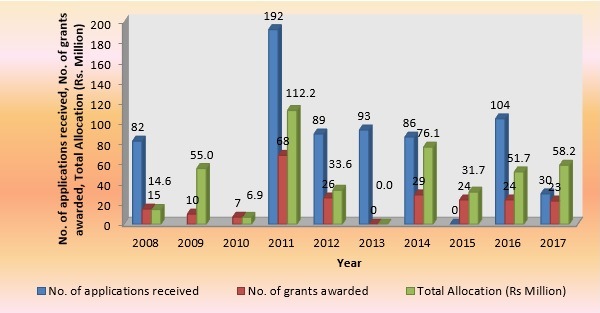 Scientists and Institutes benefitted through the research grants during the same period are as follows: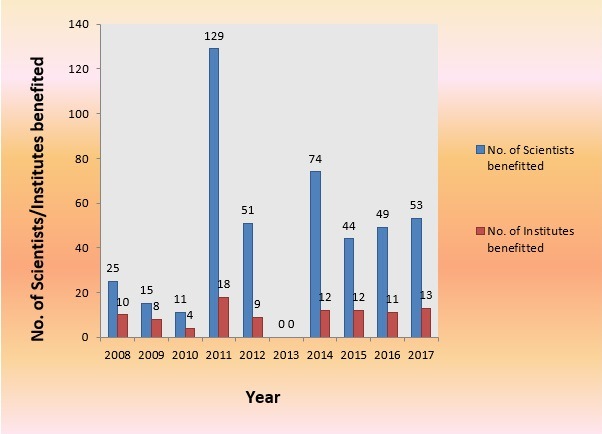 BENEFITS OF BEING NSF GRANT RECIPIENTS:
As a NSF Grant Recipient, you will get benefits on the following schemes:
• Further NSF Research Grants
• Technology Grants
• Research Equipment & Spare parts grants
• Travel grants
• Overseas Short term Training Programme
• NSF Research Awards
• Facilities available under Science & Technology Management Information System
Downloads