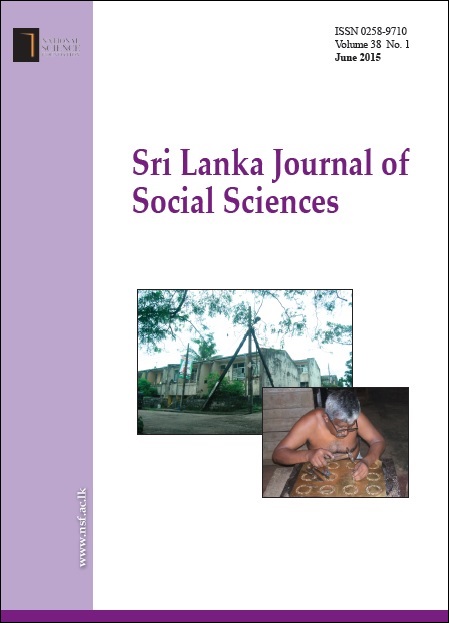 Current Issue | Archives | Search | Browse (pdf)
Sri Lanka Journal of Social Sciences (SLJSS) is published twice a year (in June and December) by the National Science Foundation of Sri Lanka. This journal has been published since 1978. The journal entertains suitable Social Science articles focused on Sri Lanka and/or other South Asian countries. This journal has wide circulation within Sri Lanka and abroad.
The researchers are encouraged to contribute articles based on recent research. In addition to research articles prepared according to the given guidelines, the journal welcomes review articles and work-in-progress articles describing ongoing research by scholars in Sri Lanka and abroad. Furthermore, solicited book reviews are also published in the journal. The Editorial Board of the SLJSS seeks to develop this journal as a forum for Social Scientists working on Sri Lanka, including those currently working abroad. Being an official publication of the premier government agency responsible for promoting scientific research in Sri Lanka, the SLJSS also provides an important window for influencing policy and action at various levels.
The Editorial Board:
Prof. K. Tudor Silva (Co-Editor)
Prof. S. S. Colombage (Co-Editor)
Prof. Chandra Gunawardena
Prof. Sarath Amarasinghe
Prof. I. M.K. Liyanage
Dr. Swarna Ukawatta
Dr. Harini Amarasuriya
Dr. Nishara Fernando
Submissions can be made on the following categories:
• Research articles
• Review articles
• Work-in-progress
Downloads for authors:
1. Guidelines for preparation of manuscripts
2. Author responsibility statement
Subscriptions:
Foreign : US $ 8.50 per issue (postage free)
Local : Rs. 100.00 per issue (postage free)
Remittance in favour of the National Science Foundation.
Editorial Office:
Dr. Inoka Sandanayake (Scientific Officer)
Mrs. Sanduni Samarasekera (Scientific Officer)
Contact:
Editorial Office,
National Science Foundation,
47/5, Maitland place,
Colombo 07.
E-mail: This email address is being protected from spambots. You need JavaScript enabled to view it.